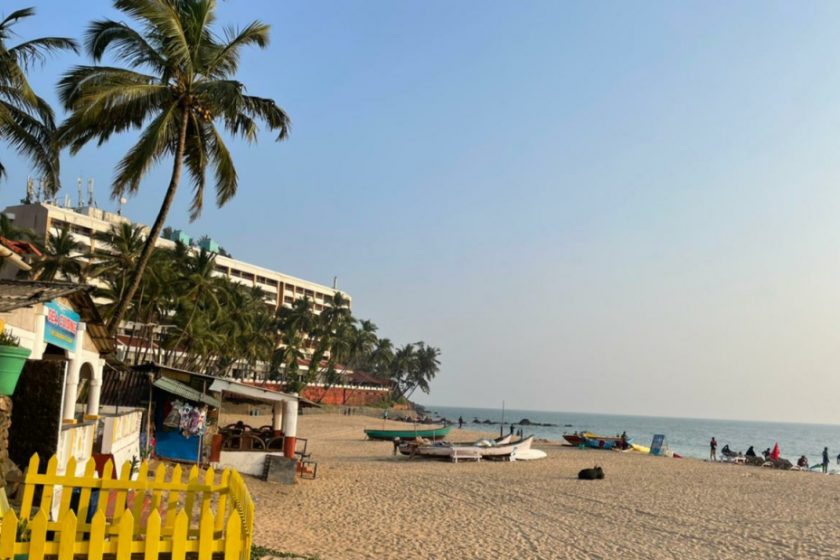 Ultra distance races in our country are rare. Accentuated by the present Covid crises, it's difficult to find a decent race to set targets for the next bragging rights. Here comes a lifesaver in the form of Ultra Spice Race run by Inspire India headed by the formidable Divya Tate based at Pune. This is by far the toughest endurance race in our country. The race distance is 1170 km over a period of four days with an elevation gain of 13000 meters!! Now if this doesn't raise goosebumps, we have a category wherein the riders do the complete race unsupported ie. no support vehicle or crew for the entire race. Now we are talking about a real challenge. Ultra Spice Race is one of the 14 qualification races held across the globe for qualifying for RAAM. For the uninitiated, RAAM stands for Race Across America held once a year wherein the rider/team has to traverse from one coast of the US to the other. That's about 4000 km in 12 days. The RAAM qualification events are to be crewed or supported and those completing the qualification race within the stipulated time get the coveted title of RQ or RAAM qualified and are eligible to apply for the race in the US.
Ultra Spice Race was within my sights for the past two years. To be frank I needed a lot of guts to commit to it. The plausible motivation was that the race passed near our hometown and I've never pedaled in that part of the country. But the original route was cut short in the 2021 edition from the earlier 1750 km making it 1200 km with Madikeri as the turning point. Nevertheless, it was a challenge worth persuing before setting sights on bigger ones like PBP or LEL.
TRAINING
Training began in right earnest with the brevet series of 200, 300 & 400 km
in the month of Oct 2020 with Delhi Randeoneurs. My form was ok so was my equipment, however, the flat routes and hot weather were not helping me for the actual race which was predominantly killer climbs in cool weather. In the first week of Dec 20, did a 400 km ride from Jodhpur to Longewala as part of Golden Jubilee Celebrations of the 1971 war organised by Jodhpur Military Station. The ride introduced me to drafting and gave me the privilege to ride with members of the Jodhpur cycling club which included the legendary Lt Gen Anil Puri and Mrs. Renu Singhvi. It was a good practice in the sense I was able to double my ride time between breaks from 50 min to 1.5 hr. Talk about widening mental vistas!! Delhi weather was getting chiller and my frequency of rides after the Jodhpur event had come down drastically. It was really difficult to motivate myself to get on the bike leave alone going on a full-on practice session. Moreover, I was slated to move out on posting to Jamnagar and hence social events took primacy overtraining for the event.
Aim……. Before any such event, one should be very clear of the aim or the end picture. Once that is fixed, everything flows from it. For me, it was to complete the grueling course in a respectable time. Rough calculation pegged it at nearly 75 hours of the ride. But then it was not so easy considering the predominantly rolling terrain and three major ghat sections.
Here comes my classmate Mathew Tom, a local brevet champ from Changanassery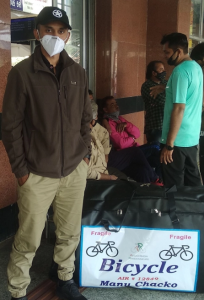 affiliated with Cochin Bikers. We reconnected through Strava and I was in awe of his exploits. I convinced him to register for the race along with me. His prep for the race was top class including numerous 200/300 km brevets in hills with Cochin bikers. He would egg me to ride more and advice me on better kitting for the race. We were in constant touch comparing minute details of the route and race plan. I owe a lot to him for my successful completion. We had a series of webinars by the race organisers and previous race participants prior to the race. I was in awe of the legends like Kabir and Lt Col Bharat Pannu who would shell out practical advice for the race. Frankly, I looked like a toddler in front of these towering giants. They were belting out nutrition and race plans and it sounded Greek to me! God save me from my ignorance. Thankfully we had free samples of Leap Endurance Gel couriered to us which would be lifesavers during the race. More on that later.
End Jan 21 I moved out to Jamnagar in Gujarat and did some rides with the local club. The final ride was a night ride with a strong team of Rajkot riders on a 400 km brevet. The ride was just a week prior to the actual race, so I had to quit after 150 km to stop myself from exerting. Just three days before the actual race, I was playing football to relax and managed to strain my right tendon. I was ok while walking but could feel the strain. With the race nearby, I guess it affected me mentally more than physical discomfort.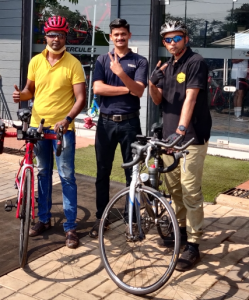 Packed my bike and boarded the train from Rajkot to Madgaon. The bike bag got a nice place inside the linen compartment near the attendant berth thanks to Covid protocols wherein no linen or blankets are issued. Managed to sleep well throughout the journey. Reached Madgaon at 0900 hrs on 05 Feb and waited for my buddy Mathew who reached an hour later. From there we headed straight to the bike shop in a taxi to assemble our bikes. The bike mechanic, a very gifted Vishal did a wonderful job on our bikes. Left our bike bags there and headed straight to the venue for the bike inspection and other formalities. The venue was John Seagulls at Bogmalo beach which was a postcard scene in itself. Met our fellow racers and race organisers for the first time. The hectic pace of activities followed including taping reflective material all around the bike, filling forms, briefings, and photo sessions. The evening was topped out with a lavish spread of snacks and beverages.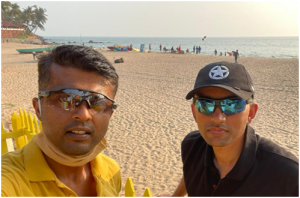 Formalities done, we headed to our room at the Naval Officers Institute. Cdr Deepak Varghese who helped us with our arrangements at Goa was kind to look upon us in the evening. We had an early dinner of Biriyani and hit the sack as soon as we sorted our drop bags. I couldn't sleep well possibly due to anxiety and we got up as early as 0300 hrs. Mathew had a sound sleep thanks to the beer he had prior to dinner. I tried to catch up some sleep at around 0530 hrs. Managed to get up in time for a quick change and made our way to the start point by 0700 hrs.
Day 1 (Start Point)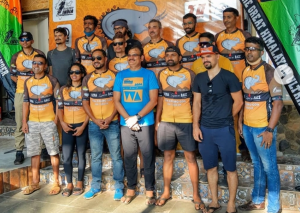 The atmosphere at the start point was cheerfully infectious with race participants, organisers, crew, and family & friends. Last-minute tuning up and snaps prior to the start was on. 1200 km self-supported with eight riders were the first to be flagged off at 0800 hrs. We all lined up and kept on egging each other for the long event ahead. Go was as per the schedule and we started to the cheers of the entire crowd which had conglomerated at Bogmalo. The initial 3 km was a steep climb to airport road which gave us a fair warning of what was lying ahead. At one of the speed breakers, my water bottle had come off, picked it up to find it broken, and dumped the same on one of the crew cars. Made our way at a steady pace for the ghat section which came up after 30 km.
The Goa ghat section was moderate in climbs. Legs were fresh, hence we made it in good time. We had our first halt after 87 km (CP1- Karwar) at about 1200 hrs and a meal of Masala Dosa. Topped our bottles and managed to fix the loose bottle holder rivet which was creating an issue. The next halt was planned before Honawar (178 km) for a late lunch. However, the sun was killing us forcing us to take breaks every 40 min. We consumed copious amounts of tender coconut water from wayside vendors to hydrate. A number of crewed teams were passing by and offered to water us with sprinklers which we welcomed. Brought in a lot of relief from the scorching heat. Had lunch at 158 km at about 1530 hrs.
Reached Honawar CP (178km) at 1700 hrs and after a quick check-in, started for the base of the ghat section which was 25 km ahead. Speed was moderate at 16 kmph as the terrain was rolling. We were warned by the organisers to top up before getting into the ghat section starting at 203 km. We reached the base at 1900 hrs and started the ghat section. The climb was getting difficult to say the least with gradients of 3-4%. It was getting dark and temperatures were dipping. We had to negotiate an elevation of 700 m from sea level with a total gain of approx 3000 m. Water was running out and at 225 km, we had completely run out and had to stop passerby vehicles to replenish our bottles. Some sections in the ghats had to be negotiated on foot due to the steep climb. The Jog Ghat section really tésted our wits and we finally made our way to the top at 2130 hrs after climbing for nearly 4 hours. We immediately crashed into the nearest hotel for dinner which was again good old biriyani topped with lime juice. Took some rest over there and tracked the whereabouts of our fellow riders. The lone lady rider Grinny was about an hour behind us. We decided to wait for her and resume the ride after she settles down. She did come in at 2230 hrs and we helped her out with her bottles and charging arrangements. We started together at around 2300 hrs to complete the planned route for the day till Anandapuram CP (300 km) where we would have access to our drop bags. Managed to reach the CP at 0230 hrs for a quick change and rest at the hotel. Toshi was already here and was pondering whether to quit. Somehow managed to motivate him to continue along with us. Took a power nap of 40 min and started for Day 2 at 0400 hrs.
Day 2 (300 km done)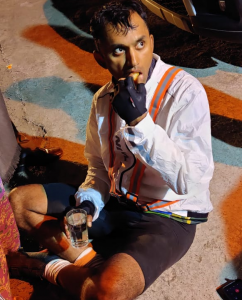 The start was steady from Anandapuram and we had to negotiate 285 km by 2359 hrs. We had tea at 0530 hrs and breakfast at 0700 hrs at Shimoga. Toshi's bike had developed a mechanical problem and had to quit the race after Shimoga. From there we kept a steady pace till Chikamangalur Ghats and reached base at 1100 hrs. The climb to Chikamangalur was from 700m to 1200m with a cumulative elevation gain of 2000m. The gradient was difficult and had to be negotiated in hot weather. Managed to complete this part by 1300 hrs and had lunch at the top. Sleep n tiredness was creeping in hence decided to take a power nap of 20 min out there. We started at 1400 hrs and headed to Bavya CP which was 90 km short of Madikeri. We reached Bhavya at 1700 hrs and had tea & snacks before heading to Madikeri. While it looked easy on papers, the roads were real bum-crakers. We could hardly pick up real speeds beyond 20 kmph. All our calculations were going catapult and our plans were getting stretched as the hour passed. Dinner was planned at Madikeri where we had a compulsory rest for 5 hrs. However, even that was a mirage considering we had to do 50 km in three hours in rolling terrain.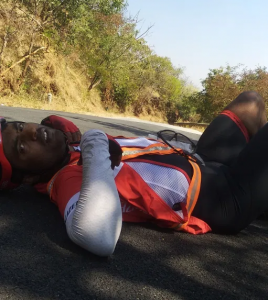 Self and Mathew were riding together till this point. At 2100 hrs, I had to part from him in order to make it to cutoff. The asking rate was steep but somehow managed to complete the stretch on leap endurance gels every few hours and dry fruits. I was hallucinating throughout this stretch, often letting go of my bike on downslopes without brakes. Reached Madikeri at dot 2359 hrs to be welcomed by my parents and aunt. It was really heartening to see them after 1.5 yrs (the Covid crisis curtailed our leave). My mother was in utter disbelief to see me in such a state. Quick bath and change brought some resemblance of the real self. Had dinner at the hotel and really didn't know when I dozed off while talking to them. Had a sound sleep tucked between my parents. Before I dozed off, I remember telling my dad to take receive Mathew as and when he arrives. He finally closed in by about 0230 hrs. His left knee had developed a sprain and he had decided to quit.
Day 3 – Return Leg (600 km)
There were a lot of emotions running in my mind after meeting my parents and I decided to start an hour late to spend more time with them. I borrowed Mathew's navigation device for the return leg. It was my first time with a Wahoo Bolt. I started at 0620 hrs and took an opposite route towards Kushal Nagar. After many missed calls by the organisers, returned back to the correct route negotiating an extra 30 km with a penalty of 2 hrs. Despite this setback, my morale was high and the same reflected in my physical condition. I was riding well and made my way to Bhage CP which was at 690 km. Had a crash before Bhage and managed with superficial injuries on my right elbow and ankle. The bike was ok so continued till Bhage and got first aid from a local dispensary. Had usual lunch of meals at Bavya at 1300 hrs. The ride to Chikamangalur was uneventful and had an early supper at the town junction. The race officials ambushed me here while I was savoring chicken shawarmas in a local eatery. Negotiated the ghat section late evening and reached Shimoga at 0100 hrs. I was really feely sleepy at this point and stopped at the nearby petrol pump for a power nap while sitting on the floor. Managed to close my eyes for 10 minutes before resuming my ride to Anandapuram which was at the 900 km mark, a good 50 km ahead. Met an organiser car en route who kept on motivating me for some distance. They had asked me to look out for potholes which littered all the way till Anandapuram.
Day 4 (900 km done)
Reached Anandapuram CP at 0400 hrs. The gate of the hotel was locked. So had to climb the gate without shoes and made my way to the hotel room. Quick change of jersey and shoes (changed to sneakers), a power nap of 10 minutes, then made way for the final stretch of 285 km. Ride till Jog Falls top was uneventful with completely rolling terrain and did the same in good time. Reached Jog falls top at 0830 hrs and had breakfast of Masala Dosa. Met the crew of Kaustabh Dandekar who had noticed a loose wheel lever and misaligned aero bars (possibly from the fall a day prior) and were more than happy to help.
I continued strong from there with my bike and tummy in good shape. The terrain was mostly downslope with occasional climbs which sapped energy. Now the rim brakes were killing me as it required brute power to slow the bike during the descent. My wrists went completely numb as I reached the base of the ghat section at 1230 hrs. The weather had completely changed and it was sweltering hot at Honawar (from 16 deg to 32 deg C). Managed a quick lunch, meals with fish and made way for the final 170 km to the finish. My devices were almost discharged as I hardly got any time to charge them. Tracking me was getting difficult for the organisers and at Karwar (1100 km) my batteries were completely drained out. Stopped at a tile shop and put my mobile on charge. I decided to continue the last 85 km with whatever I could charge for 10 min. Reached Goa outskirts at 1700 hrs and started the ghat section at 1800 hrs. The roads seemed endless at this section with the climbs getting brutal. Stopped at 1140 km /1900 hrs to again charge my phone and get my tracking in place. At this time I realised I had overtaken Himanshu at some point near Karwar but did not spot him. Continued pedaling precariously along the Goa ghat section.
It was getting dark in the ghats and at 2000 hrs spotted Divya Tate who guided me for a few kilometers. My neck had become stiff by this time and I could hardly turn to the sides without tilting my entire body. The last 30 km was really painful due to severe saddle sores. At the Airport road met the race organisers who were there to cheer us to the finish line. The roads seemed unending and at some point, I really thought they were out to rag me. At 2200 hrs, the final descent to Bogmalo came in sight and reached the finish line to the cheers of fellow race participants and organisers. Mathew had taken a taxi all the way from Madikeri spending a princely amount to meet me at the finish point. Pannu sir, Vibhav n Toshi were also there to welcome me. Many snaps were clicked and beers were flowing. I was given the finishers medal for completing the ride in 86 hrs and 15 min.
The moment was surreal and all the hard work of the past few months came to a fruitful conclusion. Went to the restaurant and had a hearty meal of naan, rice, and butter chicken. After a while, Himanshu closed in (asking for an IV with beer) and we were there to welcome him. I really wanted to meet Grinny during her finish, but that was to happen early morning. So headed to Toshi's place nearby for a change and bath. I didn't have a change of clothes so slept in a towel. The sleep was one of the best I had in my life. Toshi got our bags in the morning. Changed and headed for a relaxed breakfast at Peters Place. We got dropped at our rooms at Naval Annexe by Cdr Bobby, a friend of Cdr Deepak, and en route dropped my bike at Track n Trail for packing. Warm bath and change slept again till evening before heading out to Bogmalo for the after-party. Cdr Deepak Varghese was here along with his wife and we shared our experiences of the ride over Goan beer and squids. Chatted with fellow riders and crew reminiscing the experiences of the past four days. Finally bid adieu past midnight and left for the station after collecting my bike bag from Vishal.
The journey back was uneventful with the bike bag carefully tucked inside the linen compartment of the coach. Reached back home to be received by colleagues and friends at the unit.
After Thoughts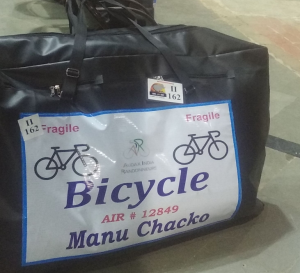 I aimed from the start for a decent finish. So to be very frank I was on a brevet mode looking at cutoff times. I never bothered cared to track my fellow riders and only realised at the end I finished a respectable fourth. So where could I improve upon things?? Will analyse in two parts strengths and weakness
Strengths….
Mentally I was at my peak. At no point of time, I wanted to give up or quit. My morale was always high in spite of multiple setbacks. Physically I was in a top condition less saddle sores and a stiff neck. A good meal and a hot bath would have made amends for that too. I guess my bike was also in top condition after the change of gear cassette and chain. I guess all these factors made up for my numerous shortcomings during the race.
Weaknesses….
A better cycle would have done wonders. I was
planning an 11-speed carbon prior to PBP in 2023. Looks like I may have to prepone the decision subject to finances. A disc brake is a must considering the rolling terrain. Better bibs and a spare to get rid of saddle sores would definitely be on my list. I was wearing a single one throughout the race for over 4 days!! A goód ride plan for hills was lacking as I have always been riding on flats and my calculations were biased thereof. The climbs in this race are brutal, to say the least, and even after hours of toil, you could hardly see your odometer moving. Except for my ridés in Wellington (Ooty), I have never graced such terrain in my entire life. So practice in rolling terrain is quite essential prior to such races. A route recce would also be in order before such races to give a mental primer before such races. A navigation device and the battery backup was neglected by me. I wasted at least 3 hours and 40 km extra taking wrong turns at Madikeri and Chikmagalur. Last but not the least, buddy riding is not recommended with a new partner on such events. I discovered I could confidently ride solo during the return leg and made up for a lot of time with a strong finish. It would have not been possible had I been riding with my buddy Mathew. He is a strong rider and a local champ but possibly didn't click on the occasion and dragged us both on the onward leg. I have resolved to ride solo henceforth and will equip as necessary for solitary rides.
Heartfelt thanks to the organiser - Inspire
India led by Diya Tate for the wonderful race experience. It was my rookie race and I did come out strong. Hindsight analysis is very easy, but the decisions I took during the race have led me to where I stand and hence no regrets.
I'm thankful to my wife, kids, and in-laws for tolerating my long absences during weekends slogging on some obscure highway for training. Deepak Mishra and his dad also deserve a shout-out for continuously tracking me and motivating me throughout the ride. I'm also thankful to all my friends and well-wishers who have always inspired me to do well... Until next ride... Sayanora!!!
About the Author
Lt Col Manu Chacko is a 38-year-old Army officer from Kerala.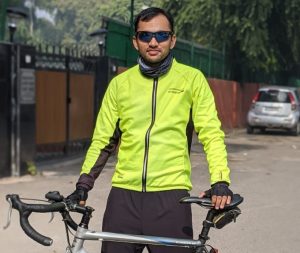 An alumnus of Sainik School and National Defence Academy, he has been enthusiastic about sports and adventure activities for since long. He has also qualified in rock climbing & mountaineering from NMI, Uttarakhand during his training days. His motivation for long-distance cycling sprouted while attending an Army course at Wellington near Ooty in 2017 when he joined the weekend cycling club. Initially, on a borrowed hybrid and later on a second-hand roadie, his cycling journey has grown steadily in a short period. His motivation for ultra-cycling emancipates from the sheer thrill of conquering the distances and the pleasure of meeting like-minded people in the same sport.